I've been fortunate enough to have visited a wide range of fishing destinations over the past decade and while each has their own unique quality; Weipa in Far North Queensland is one place I could quiet easily head back to year after year.
After a year in the planning stage, I finally met up with Lee Hodgetts from Weipa Sportsfishing who runs a very professional fishing charter service out from Weipa. Lee also has a few other local guides working
for him, Wadeo and Kurt who guides us for the week.  These two guys are freaks when it comes to fishing Weipa and their knowledge is impeccable.
I had heard many a good story coming from this pristine gem of a location and with 6 of us rearing to go, the time had come.
Our team consisted of a handful of good mates, Plukey, Cashy, John, Toli and Jerome who like me; love
nothing more than to explore new fishing destinations as well as getting gunwale bound on occasion.
Arriving in Weipa, Lee met us at the airport and quickly funnelled us into his truck taking us to our sleeping quarters for the next five days.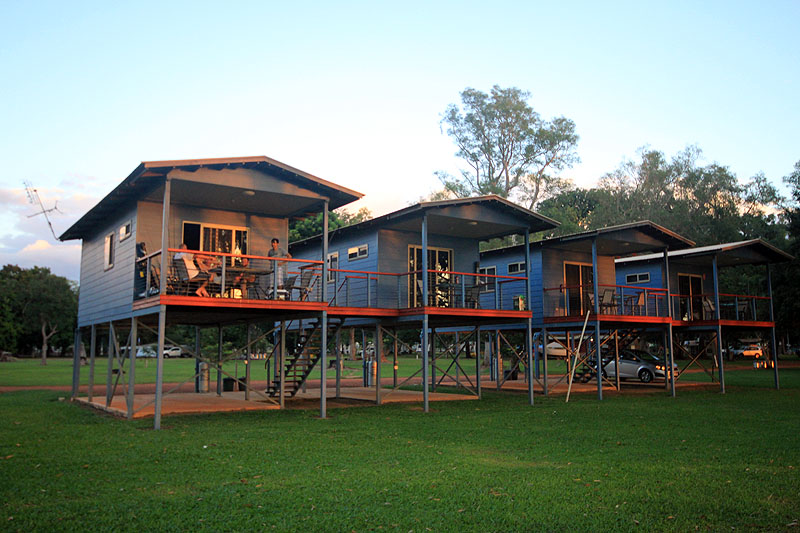 That evening, our brief discussion had us all biting at the bit to get out but there was much rigging to be done first, priority 1.
The following morning we set out in search of barra. Heading up one of the many tidal rivers, we set our sights on working
the flats. Unfortunately though, we had to contend with little flow and with the stage of the tide too shallow to get near the edges, we headed off out into the blue.
Weipa's inshore fishery is like nothing I have ever experienced. Gin clear water, reef sharks swimming in 2ft of water, manta rays with cobia following them around in the shallows and queenfish, well there is enough of them that you can choose which one you want to eat your lure. GT's, roam the deep reefs, Sailfish ball up bait offshore and in every direction you look, there is either a sea snake slithering past, turtle grabbing a breath of air or your being pulled into the gunwale of the boat while trying to battle a high speed fish to the boat that has a shark trying too eat it.
We hit one particular mark, and instantly, the sounder showed good arches of queenies all stacked up. One pass with a trolled Yo-Zuri hydro Mag and it was one for one and old. Fortunately for myself and Dean, the first hook up
was a double consisting of two magnificent Golden Trevally followed by countless queenies for us all.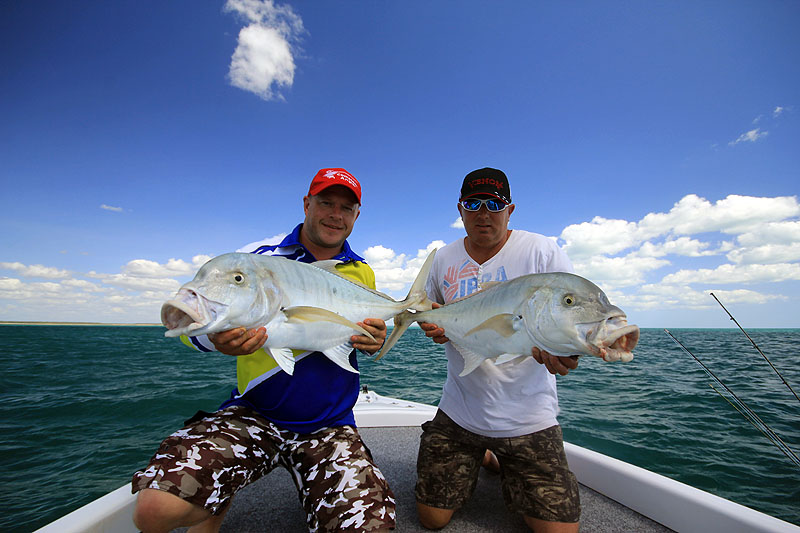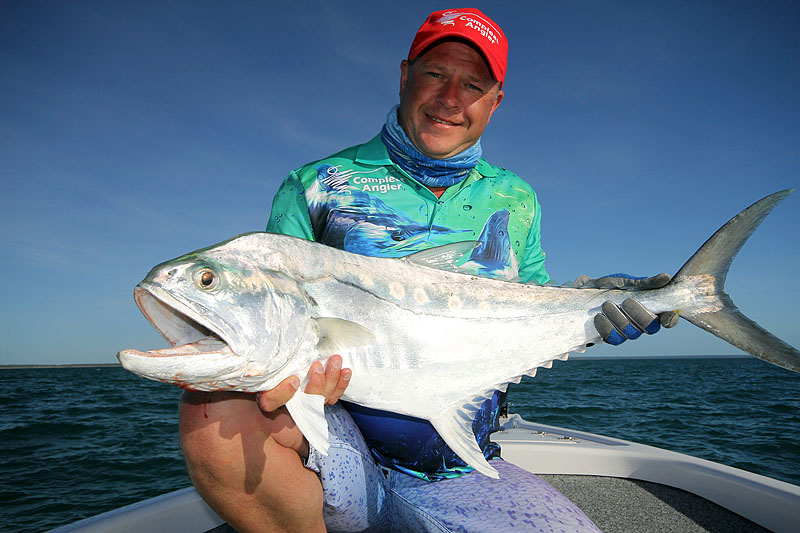 Having spent the best part of three days out in the blue, we'd decided to spend the last 2 days concentrating just on the creeks. Launching from the nearby ramp, we headed up the main rivers in Weipa, The Mission, The Pine and The Hey. Small feeder creeks flowed into them and with small schools of bait pushing down the systems casts made to the exact snag, eddy or points hit their targets.
I must add that the barra weren't totally aggressive and we did mange to lose more than we landed but with barra to 95cm engulfing deep diving hard bodies and jewfish to 121cm devouring Zerek Cherabin soft plastics, who in their right mind would care, not us.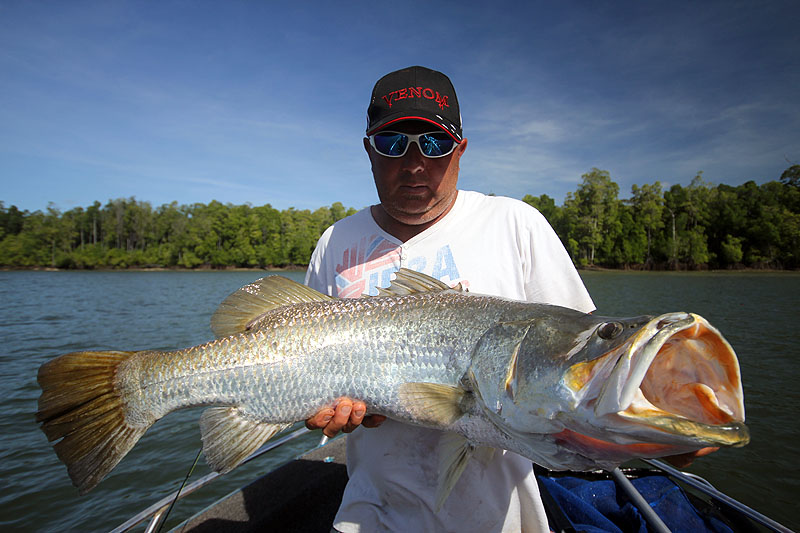 Although this is only a brief insight to a full five days of fishing around Weipa, I can't stress enough just how magnificent this location really is.
They say a picture tells a thousand words so for now on I will just let my images to the rest of the talking.
If your thinking about visiting Weipa for a fishing adventure, join me next May when I head back up to do it all again.
Weipa trip enquiries welcome – jarrodday@iprimus.com.au
To see more photos from the trip, Check out my gallery on Facebook
https://www.facebook.com/jarrod.day.9/media_set?set=a.10152804226772724.1073741878.550472723&type=1