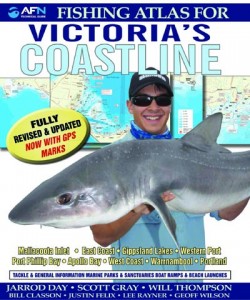 A complete guide to fishing Victoria's bays, inlets, offshore and estuarine waters, including GPS marks to get you amongst the fish.
Where and when to fish and how to catch various species is covered with detailed maps identifying specific fishing areas from Mallacoota in the east to Portland in the west and everywhere in-between.
Precise colour maps show all of the areas discussed in the text as well as points of interest to anglers, including marine parks and sanctuaries.
Features:
Detailed maps
What to fish for
Where to catch fish
When best to target particular species
Boat ramps
Landbased and boat based fishing
GPS marks
Tackle shop outlets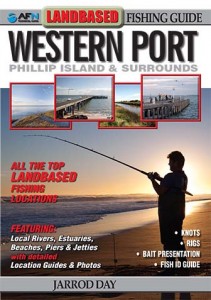 This full-color A5 guide of 79 pages has been produced to aid those fishing from the shore with proven locations in which to catch a fish.There's heaps of tips the local knowledge including how to make the best rigs for the area, knots to use, baits, lures, line weights, hook sizes and much more.
Plus there's info on Marine Parks in the area, useful contacts, local amenities, suitability for kids and a glossary of commonly used fishing terms.
Whether you are an experienced angler or a beginner, there's tons of local knowledge and tips in this guide that will help you catch more fish!
The Western Port and Phillip Island Land-Based Fishing Guide was written by myself after spenidng 20 years fishing from all of the locations listed.
Starting at Venus Bay, the guide progresses all the way around Western Port to San Remo and further afield to Portsea back beach also includes locations around Phillip Island. Whether it's beach, rocks, pier or estuary fishing you are interested in, there's plenty of variety covered in the guide.
All this is presented in a concise, user-friendly format so you can spend more time fishing than sitting at home wondering where to go.
Proudly published by Australian Fishing Network